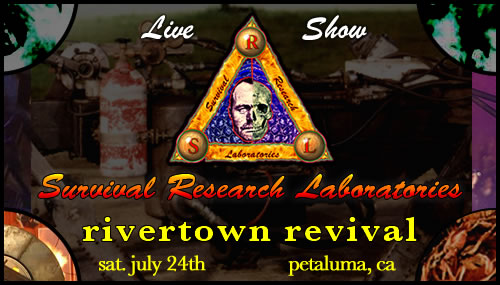 SRL (Survival Research Laboratories) will be performing Saturday, July 24th, 2010 at the Rivertown Revival in Petaluma, CA. You can find details on the SRL event page and the full schedule on the Rivertown Revival schedule page.
This will be the first performance that SRL has done since the move from San Francisco to the new location in Petaluma.  Both the Running Machine and Big Arm will be making a grinding appearance along with some other surprises.
SRL have posted some pre-show images & some pre-show videos to wet our appetites.
For those who can not make it, Ustream will be streaming the event live here:
Ustream.com Livecast: SRL at the Petaluma Rivertown Revival
If you are looking for direction, Rivertown Revival has provided a nice hand drawn map and a page for directions.
Keep reading for more details…
{ 1 comment }